News
Here are Some Basic Tips for New Beginners for Scoring in NHL 19
Are you still troubled by your bad scoring and can't figure out a strategy? Well, to help you out, today, we've made up this NHL 19 scoring guide which cover some realistic tips from advanced players, to maximize your scoring chance and get the upper hand on the court. So, keep on reading.
Cycle the Puck, Invert Defensive Players Handedness
To start, we should all know by now that all LDs are lefty, all RDs are righty. Switch their positions in game, it helps a lot with shooting from the back and also cycling the puck. Now for cycling the puck. Do it. Just pass around. If you're having trouble getting your shots to go in, just pass. Try to go cross crease, as that's very effective. If your opponent defends that well, just pass around. Eventually you will have an opportunity, whether you meant to get one or not. Also, i've found that inverting your wings handedness isn't as important as it was this year. With the new skating mechanics, its easier to be creative on the ice and avoid defenders. Use this to your advantage, and don't just resort to one timers, short side snipes or d to d slappers. Once the players have higher ratings, revisit this and we'll see.
Centers Faceoffs and possession are important in this game.
It's great that your favorite players are Evgeni Malkin and Jack Eichel, but don't play them at center. Get someone who will actually win a faceoff for you. If you aren't successful scoring or the AI drops into the trap, skate to the center face-off circle and fire the puck into the stands. This will cause a face-off at center ice and you can repeat the setup above. Here's another video that shows what I mean. If you wnat to Buy NHL 19 Points, you can take taxi to pointssale.com, it's safe and fast.
The Go To
The most successful shot in this game, as I have found in both HUT and WoC, comes from about 5-10 feet in front of the goalie. From the left side as a righty, glide towards the goalies far side, and crossover to the right hand side of the ice (I know, not your typical short side snipe). You should get within 10 feet, so somewhere between the faceoff dot, 9o'clock and 12o'clock on the faceoff circle. Do not get close enough so that the goalie can poke it away. Holding both the aim and deke sticks to the right, quickly aim across the goalie and low and shoot it. I don't know why this tough angle shot works so well, but it has been my most effective shot so far.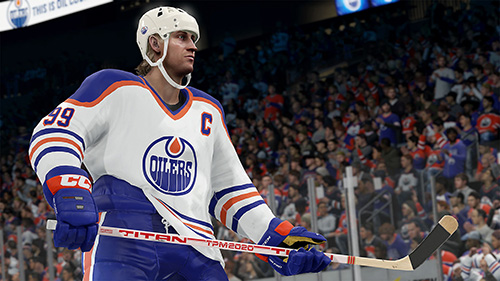 The Datsyuk
Last, it is the pull back and around on the right stick move. It's the new short side snipe, except you can just skate up the ice short side, use the move and shoot short side. It's not foolproof, and you'll need to practice it, but it is highly effective with guys with great shots. Lafleur is a beast using this move and I'm sorry if you didn't pick him in your preorder packs.